Christopher Lockhead
Thursday 25th July 2019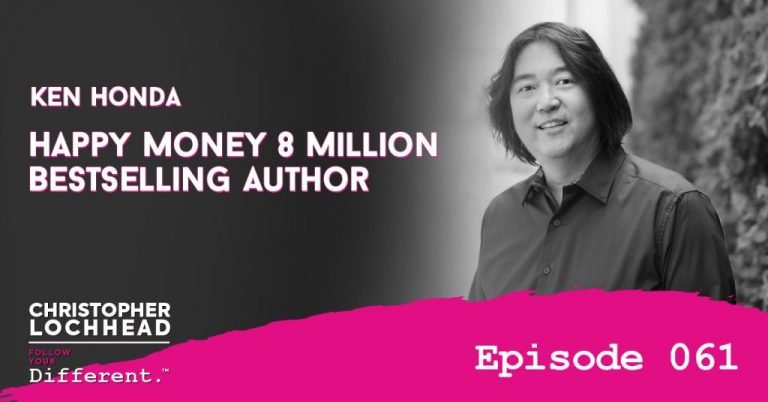 Ken Honda has authored over 50 books and sold over 8 million of them. Today, he joins Lochhead in a riveting conversation about his latest book, Happy Money and how you can have a powerful relationship with it.
"Next time you have a hard time feeling happy about writing checks, just say, 'Thank you, thank you, thank you for giving me the opportunity to bless people with my money.'" – Ken Honda
Happy Money Defined
Ken exemplifies happy money through the news he watched prior to coming on the call with Lochhead. Someone delivered a speech about taking care of all the student loans of hundreds of college graduates. Without getting anything out of it, the person was lifting this particular burden, which kills lots of people, off of these graduates' shoulders.
"Happy money is money that makes you smile when you receive it. And also, it gives you joy when you spend it." – Ken Honda
This is a fascinating way of thinking about money. After all, most people and authors espouse how-tos of making, saving, budgeting and other money mechanics.
Money Healer Ken Honda
Often called the money healer, Ken not only teaches financial independence. His focus also lies on how to heal one's relationship with money. People tend to worry about it too much that they cannot have a healthy life.
We have become so restricted because of money issues. Ken took up the mission to help people be free of these constraints.
Everyone Has Money Wounds
In Happy Money, Ken writes about money wounds. This less than positive relationship with money stems from the simple truth that we all are frustrated with money in one way or another. And by all, he means not just the financially challenged people who have a hard time making ends meet.
Middle class people manage to make ends meet, but barely. Meanwhile, those in upper middle class feel disadvantaged and feel the need to work hard to graduate, land a job and pay back their loans. And the wealthy people feel some kind of guilt about sitting at the top.
"If you can somehow heal your money wounds and transform your relationship with money, you can then be happy forever. It takes a little practice, but not too much." – Ken Honda
To hear more about bettering your relationship with money from Ken, download and listen to the episode.
Bio:
Ken Honda is a bestselling author of self-development books in Japan, where he has sold more than eight million books since 2001.
While his financial expertise comes from owning and managing several businesses, his writings bridge the topics of finance and self-help, focusing on creating and generating personal wealth and happiness through deeper self-honesty.
He is the first person from Japan to be voted into the Transformational Leadership Council.
Fluent in Japanese and English, he has lived in Boston and currently resides in Tokyo.
Listen to the podcast at: https://lochhead.com/ken-honda/